Sufi Suite for solo cello
Tanya Anisimova
Sufi Suite for solo cello
View Preview (PDF opens in a new window or downloads to your device).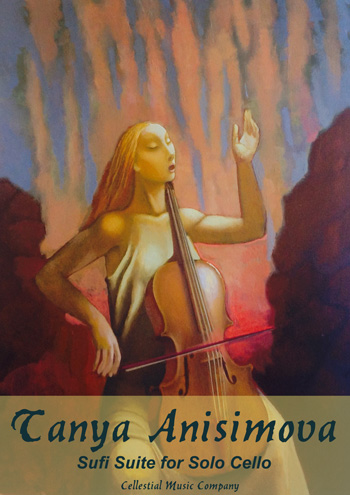 Sufi Suite for scordatura cello and voice.
"Where Shams-I Tabriz walks, the footprints become notations of music and the holes you fall through into space." Rumi (translated by Coleman Barks)
Sufi Suite was composed during summer of 2005 and was first performed in 2006, at Roerich Museum in New York City.
Since its premiere, Sufi Suite has been played in Boston, Moscow, Mexico, and Australia. In 2007, it was included in Sufi Soul CD, which was described by Heather Kurzbauer in The Strad Magazine as "deep, exploratory and richly rewarding" and was featured on Amsterdam's Radio 4.
Sufi Suite was inspired by Jalāl ad-Dīn Muhammad Rūmī poetry.
The first movement, After Rumi, is an arabesque-like prelude.
The second movement, OM, is more substantial in size and combines vocal chanting (sang by the performer) and varied and intricate rhythms of a Sufi dance.
The work asks for an alteration of the cello' tuning, i.e. scordatura: G-D-G-C which makes Sufi Suite pair well with J.S. Bach's Cello Suite in C Minor.
Tanya Anisimova