Song on Mount San Angelo for solo cello
Tanya Anisimova
Song on Mount San Angelo for solo cello
View Preview (PDF opens in a new window or downloads to your device).
Song on Mount San Sngelo for solo cello.
Anisimova opened with "Song on Mount San Angelo," commemorating the landscape at the Virginia arts colony where she wrote it. The sonorous piece built from a simple atonal melody to a vigorous center that expressed the depth of a thoughtful soul (excerpt from the Wash.Post' review, 1999.)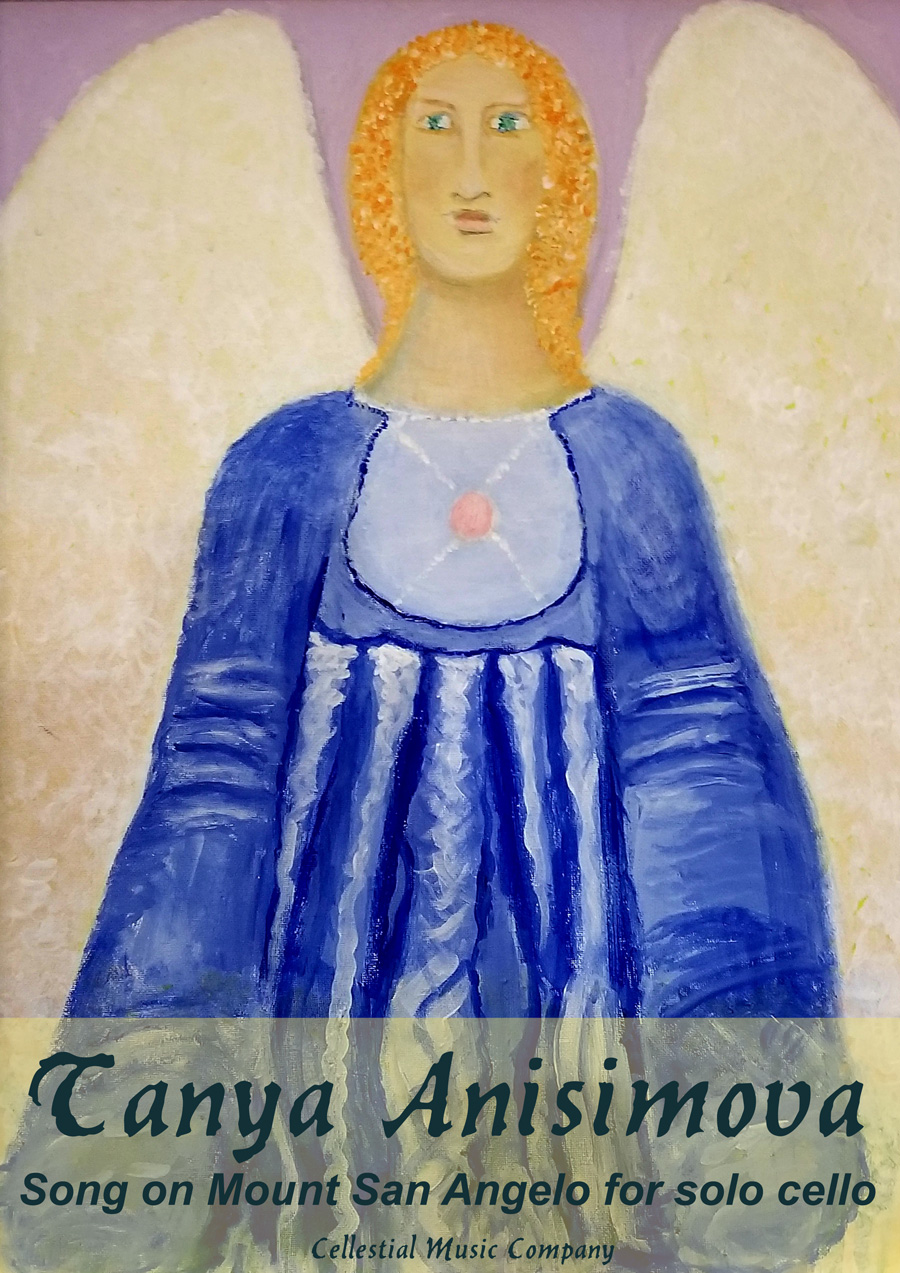 I consider Song on Mt. San Angelo to be my first "official" composition. It was written in the summer of 1995, shortly after my graduation from Yale School of Music. I had felt enormous freedom, joy, inspiration, and gratitude while a four-months fellow at the The Virginia Center For The Creative Arts. This piece was created as a part of the interdisciplinary project done in collaboration with my husband artist Alexander Anufriev. Six Gigantic Angels painted on Canvas Banners (10 x 15 feet each) represented six colors of the spectrum. The music was played as the paintings were illuminated in a special order. The performance lasted two days (after four months of work!!); it was enjoyed by over 500 people. VCCA's Director, writer William Smart was instrumental in making this project possible. My CD titled "Music from Mount San Angelo" was produced and released by VCCA. In 1996, the project "Angels From Mount San Angelo" was repeated at
St. Mark's Cathedral (formal National Cathedral) in Washington, D.C.
The difficulties of playing this work mainly lie in the continuous control of the bow, necessary to maintain a long and uninterrupted melodic line.
Tanya Anisimova