September 11 for solo cello
Tanya Anisimova
September 11 for solo cello
View Preview (PDF opens in a new window or downloads to your device).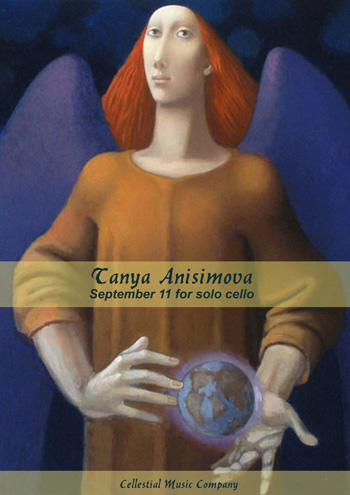 September 11 for solo cello came to me soon after the horrible events in September of 2001.
The work is in a form of a chaconne.
The world premiere took place during my solo recital in October of 2001, at The National Hebrew Congregation, in Washington, D.C. and it was featured on my 2002 Concert in Moscow CD.
While preparing for a concert last year, I decided to revise the work. The present version is slightly longer; the culmination is more developed.
While this composition has a mournful aura, it is not a work of a desperate anguish, but rather a life-affirming one.
There is an all-pervading light. The souls of the innocent are not lost, but remembered forever with love.
Tanya Anisimova