JS Bach - Largo from BWV1005
Bach - Largo from Violin Sonata No. 3 BWV1005
arranged for cello by Tanya Anisimova
View Preview (PDF opens in a new window or downloads to your device).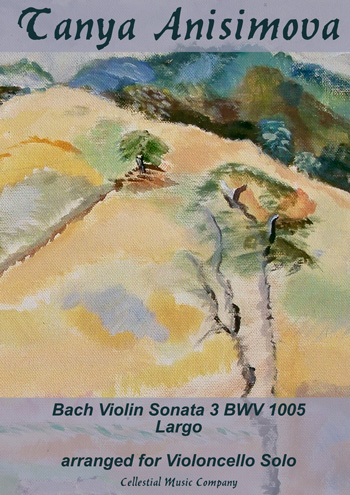 Tanya Anisimova has been researching, transcribing and performing Violin Sonatas and Partitas by J.S. Bach for many years. Anisimova's 2-CD recording of the Complete Sonatas and Partitas by J.S. Bach (1999-2001) was the first, and currently the only, complete recording of these works performed on the modern cello.
Anisimova's style of playing these masterpieces can be described as 'mystical realism'. Being a composer herself, she believes that Bach's music does not need to be confined to a baroque performance practice. J.S. Bach was a genuine modernist and a true original. He was a virtuoso organist. To Anisimova's mind, J.S. Bach would only welcome the possibilities of the modern cello and he would be inspired by the modern practice in performing his music.
Tanya Anisimova