Icelandic Ballad for cello & piano
Tanya Anisimova
Icelandic Ballad for cello & piano
View Preview (PDF opens in a new window or downloads to your device).
(Includes full score and separate cello and piano parts)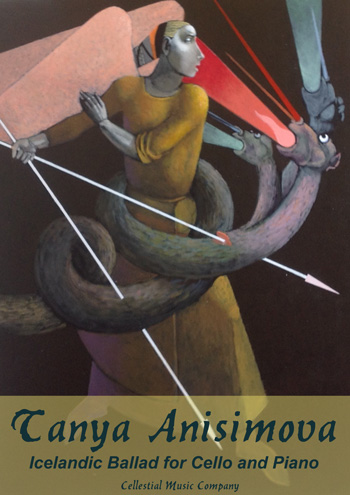 The idea to write Icelandic Ballad for Cello and Piano came to me upon listening to the 14th century Icelandic hymn "Almighty G-d of All Lands" (Book of Lilja, c. 1340). The simple beauty of this chant, its self-contained structure, plus the component, which I would like to call "macro-ethnos" or "universal folk" quality - compelled me to create the Ballad.
The theme is followed by ten variations. If one takes a closer look, one will be able to follow the history of western music, from the mediaeval to the future, unfolding through the piece.
In October 2007, the composer and Prof. Lydia Frumkin gave the first performance of the work in Washington, D.C., to high critical acclaim. European premiere took place later that month at Salurinn Hall in Reykjavik.
Tanya Anisimova