Caravan for two cellos
Tanya Anisimova
Caravan for two cellos
View Preview (PDF opens in a new window or downloads to your device).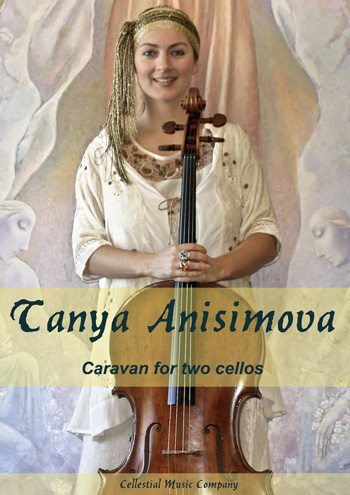 Our life is a journey. We are all caravan keepers. Will we have the strength and patience to bring our caravans safely to their destinations or will we loose our goods on the way?
I had wanted to write for two cellos as I was preparing for my 2007 concert in Moscow with my former Moscow Conservatory Cello Professor Igor Gavrysh.
Paul Katz got interested in the piece while it was still in progress and we premiered its first version in Washington, D.C., in April '07. A month later, we gave the 1st performance of the current Caravan version at Rachmaninov Hall in Moscow, with Prof. Gavrysh.
Caravan since then has gained considerable popularity and is being performed by cellists worldwide.
In 2011, Carrie Koffman arranged the work for two saxophones. Her arrangement of the piece was selected as The Favorite Composition at the 2012 Saxophone World Congress in UK. (Available on Carrie Koffman's recording "Carillon Sky" on iTunes)
Tanya Anisimova