Week Three
(Click on images to see a larger/complete version)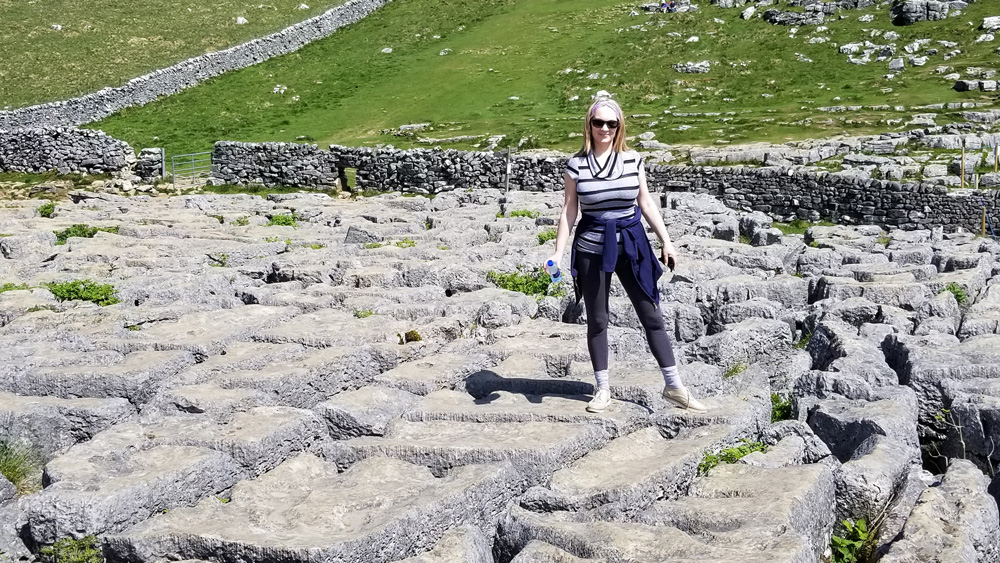 Tanya on the limestone pavement at Malham Cove
My third and, alas, last week in the UK began on Sunday, with a collaborative reading of the Schumann Cello Concerto with Cobweb Orchestra. In this piece, the orchestral writing is cavernous and the rhythms are often syncopated, making its sight-reading a bit of a nightmare even for the pro players. Cobweb Orchestra consists of enthusiasts-amateurs, which are willing to drive long distances to these collective readings just for their love of music. The first Schumann run did not quite happen. Conductor Andy Jackson did not despair. Schumann's at times delirious flow of consciousness was soon deciphered and the orchestra ended up delivering a very convincing performance of the piece, technically proficient and emotionally charged, from beginning to the end. I was touched by the group's attitude expressed in their playing. Throughout my career I have worked with professional orchestras and with amateur groups alike. I often felt more inspired while playing with the latter.

Monday's trip to Malham Cove brought quite a different but equally intense emotional experience. Can a mountain be endearing? Well, in the Yorkshire Dales National Park it can! You walk up a narrow path: on your left there is a steep slope – on your right there is diligently arranged by Mother Nature an ikebana of rocks, plants, and moss. This green-white-grey display of textures, smallish in size, looks almost like a botanical sample displayed at some museum of natural history. Except that this display is not contained in a glass box and there are miles of it, as far as an eye can see.
Our destination, Malham Cove is a 12,000 year old and 260 feet high waterfall site. This is a huge and mesmerizing limestone massive with a top made of limestone pavement, the gigantic rocky plates of which are moving as you step on them. You can't help thinking about the depth of the cracks between them. As I was coming up close to the edge of the cliff, I had suddenly decided to make a Skype call to my husband. He must see this! The call has gone through and, before I could say anything, Sasha began shouting at me from Maryland, USA: "Get away from the edge, I tell you, now, I SAID NOW!" A good thing, he did not see the full height of the cove!
Wednesday, May 23, 2018. The Hitchhiker Guide To The Galaxy! It was Carol's brilliant idea to introduce me to this marvel. As we were listening while driving down to Kent, super intelligent Deep Thought computer was giving the ultimate answer to "life, the universe and everything"; it had occurred to me that I could no longer distinguish between the show and the reality of a particular place in the galaxy we were now driving through. Now, months later, and a few CDs further (yes, I know - I know what you will say now, Carol, but we are savoring it!) I still catch myself not registering the present location or the current season.
Terence and Jan Grimwood welcomed us into their quaint cottage among the fields of Kent. I am guessing, some old heavy drinking ghost from this structure' past incarnation – it used to be a pub - crept into my mind with a rather clear advice. I immediately felt like drinking something heavier than the tea I was offered, but decided to restrain myself. After all, I was to play with Daniel Grimwood for the first time ever! When we did play it did not seem to either of us that it indeed was the first time. Since I was now in my après-Hitchhiker life stage, I was no longer surprised at anything. However, the improvisatory quality of Daniel Grimwood's playing was rather striking. Rehearsing with this artist was a true joy. It was the same during our concert, only with an added colorfulness of the sound from the Fazioli piano.
What is meant to happen will happen. On the other hand, what is not meant to happen will not happen, however strange it may seem. Two days before our St. James' Piccadilly concert we went to see the rather dull and unenthusiastic Daniele Gatti conduct Mendelssohn' Italian Symphony at Royal Festival Hall. maestro Gatti, G-d forgive him, did not, in turn, go to see us play Mendelssohn's and Rachmaninoff's Sonatas, which, I believe, he would have enjoyed way more than we did his concert.
Some of the other activities were memorable but did not find their way into this blog till now. On the first full day of my trip, I was to give a lecture-recital at The Wensleydale School in Leyburn. The ages of students varied between 11 and 16. What first struck me was that the children did not look like they needed entrainment of any sort. They were perfectly happy as they were. Still, to my surprise, they got interested in what I was doing with my cello. I could feel their surprise and asked them how many of them had heard or seen the cello up close, soloing? Not many raised their hands, maybe five, may be less. There was one tiny boy, Arthur, who impressed me with his general knowledge of music, as well as with his interesting idea about the theme I should improvise on. Later, this angelic being came to play his violin for me. He turned out to be very talkative. When he stopped talking however and started playing, his violin tone had sweetness and his phrasing was sensitive and sincere. I have found Arthur to be a very talented musician and also learned of his moving to another town to continue his studies. Hopefully, his musical journey will be as fulfilling and interesting as he would like it to be and that he is still as enthusiastic about music years from now.
On Friday, Terence and Jan Grimwood took us to see All Saints' Tudeley Chapel with windows by Chagall recalling the moving story of the untimely death of a teenage girl. Marc Chagall's stunningly colorful commemoration of this tragic event and the location of the chapel, away from the main road in the middle of the fields, adds to the impression of enchantment.
On my last full day in London there was a lot of walking, a lot of talking, and a lot of sightseeing, and a special meeting with my childhood friend Chinara, who I had known since we were little children at Moscow Central Music School. Chinara and I had reconnected in the mid-90s, when she was doing postgraduate studies at Berkley College of Music in Boston. Now she lives in London and continues to make music.
Gallery with family and freinds in London:
The end
Mendelssohn Sonata for piano and cello in D Major
Farela for Piano and Cello
European Premiere
Rachmaninoff Sonata for Piano and Cello
Chopin - Sonata slow movement (encore)
with pianist Daniel Grimwood, London. May 2018