Week Two
(Click on images to see a larger/complete version)


Photo: Semewater, Wensleydale UK
As it often happens in a ternary form composition, the middle part is calmer and more introspective in character. So it was now: the cello is at the doctor getting a set of new pegs; Carol is taking me to Sage Gateshead to hear Imogen Cooper play Diabelli Variations. Sage, what a great name for a venue, but shouldn't only sages appear there? Or rubbing oneself with a leaf of salvia officinalis would serve as a pass? Carol' explanation about the origins of Sage construction project brought me back to reality.
Ms. Cooper' interpretation of 6 Little Piano pieces by Schoenberg was very satisfying. Her carefully carved phrases, where each subtle harmonic change was in view, her varied color palette would have pleased Schoenberg, I am sure. Diabelli Variations, on the other hand, were not exactly what I had expected. Having enjoyed an incredibly informed and humor filled live performance of the cycle by Michael Friedmann, music theory and analysis Professor at Yale, I was now seating through waiting for this to be over. The luminous and gravity defying Millennium Bridge connecting town of Gateshead with the town of Newcastle, as well as delicious dinner at one of Carol's favorite Indian restaurants, made up for the musical disappointments.
Gateshead
Gallery: Newcaselt/Gateshead. Click to see full images.
Our visit to the Baltic Centre for Contemporary Art, a converted mill, was a thought provoking one. The indoor staircase, I had to agree with Carol, was indeed the best piece of art contained in the building. Luckily, it is not going anywhere. Call me a conservative, but seeing a bunch of badly painted pieces of cloth hanged on the laundry ropes all over the room did not appeal to any of my senses, as hard as I tried. On the second floor, a series of colorfully painted ceramic plates, some of them shattered, reassembled and glued back together, were hanged on walls in a room with very tall ceiling. The audio part of the installation was a mix of telescope-recorded sounds, which our galaxy is uttering and, overlaying them was a mixed choir…. what can I say? Well, nothing really. A very pleasant surprise was awaiting us on the third floor. There was a video showing a group of professional dancers, whose skilled movements instantly overshadowed all the "art" shown in the building.
The art world is moving toward democracy. It is no longer a world of art. It is now a world of culture. Rubens was a professional diplomat and an artist. Rembrandt van Rijn was a genial artist and the worst diplomat.
Durham - City and Cathedral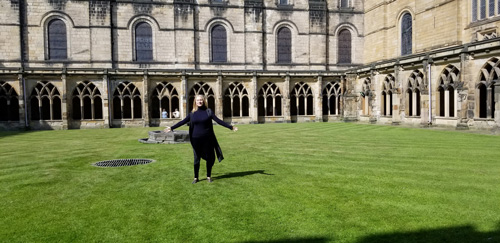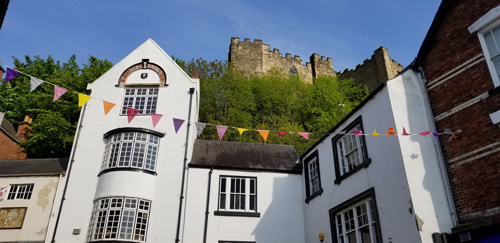 Photos: (1) Durham Cathdral Cloisters, (2) Below Durham Castle
The city of Durham struck me as the organic mixture of the old and the new. Youngsters are having lunch at the Durham Cathedral' 1000 old yard. The image of the Cathedral's nave is vivid in my mind due to the Credo from J.S. Bach B Mass, which was being rehearsed while we were there. In the U.S. the enactment of history is very popular. In the southern states especially the tourists might see a civil war solder telling his life story and ladies dressed in the fashion of the nineteenth century. In England, no special dressing is necessary. The history is living in every stone of the town structures, which are well preserved and cherished. Youngsters walk narrow mediaeval streets while organically absorbing centuries.
Ushaw College, Durham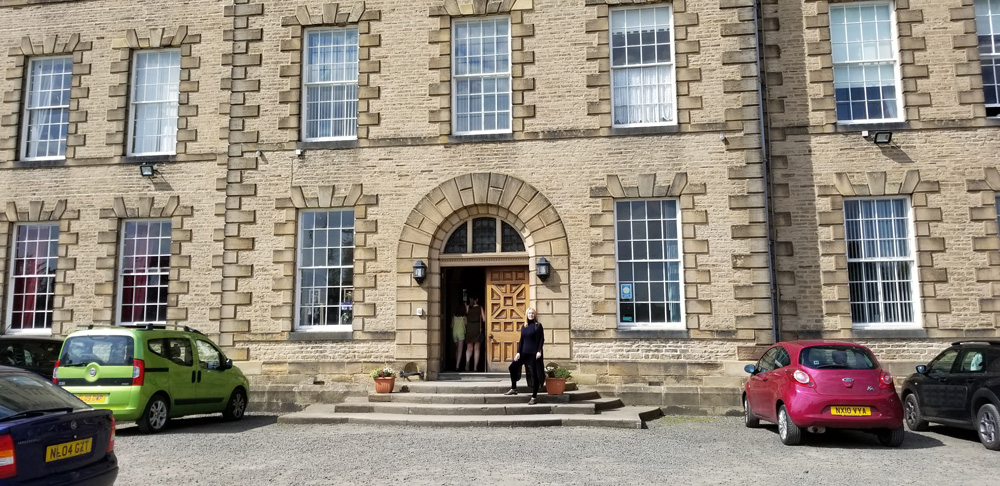 Photo: The main entrance to Ushaw College
Photos: Ushaw College Chapel details. Click to see full images.

Ushaw College Chapel is a humbling place to perform in. Its beauty, its vast opulence combined with its tricky acoustics, which, I guess, help maintain necessary silence in this huge space, made me nervous, especially since this time I was definitely to play the entire Kodàly Sonata Opus 8, a prominent example of pagan music. My own Sufi Suite was not exactly a proper Catholic opus either. I began with Bach Suite No. 5. A Lutheran piece is okay, I thought, although I had now wished I had some arrangement by Messiaen or César Franck prepared instead. My pains were matched by my audience's who had to seat with their necks turned for 2 hours in order to see the performer since the benches were positioned with their backs to sidewalls. Smart idea, I thought, they are facing each other, so, if they don't like what I am doing up here, they might struck up a conversation, while I would continue playing.
Luckily, the concert went well. To my delight, there was an eminent musician in the audience, organist Dame Gillian Weir. Afterwards, I was happy to find out that we both share an interest in Sufism. Conversation turned to so-called "correct" rhythm as opposed to the true or genuine rhythm in music. The rhythm in music is not fixed, it is alive, and we are the timekeepers. It is always a happy occasion, when you meet the kindred spirit. My only wish is that I heard Gillian play the organ, may be next time...