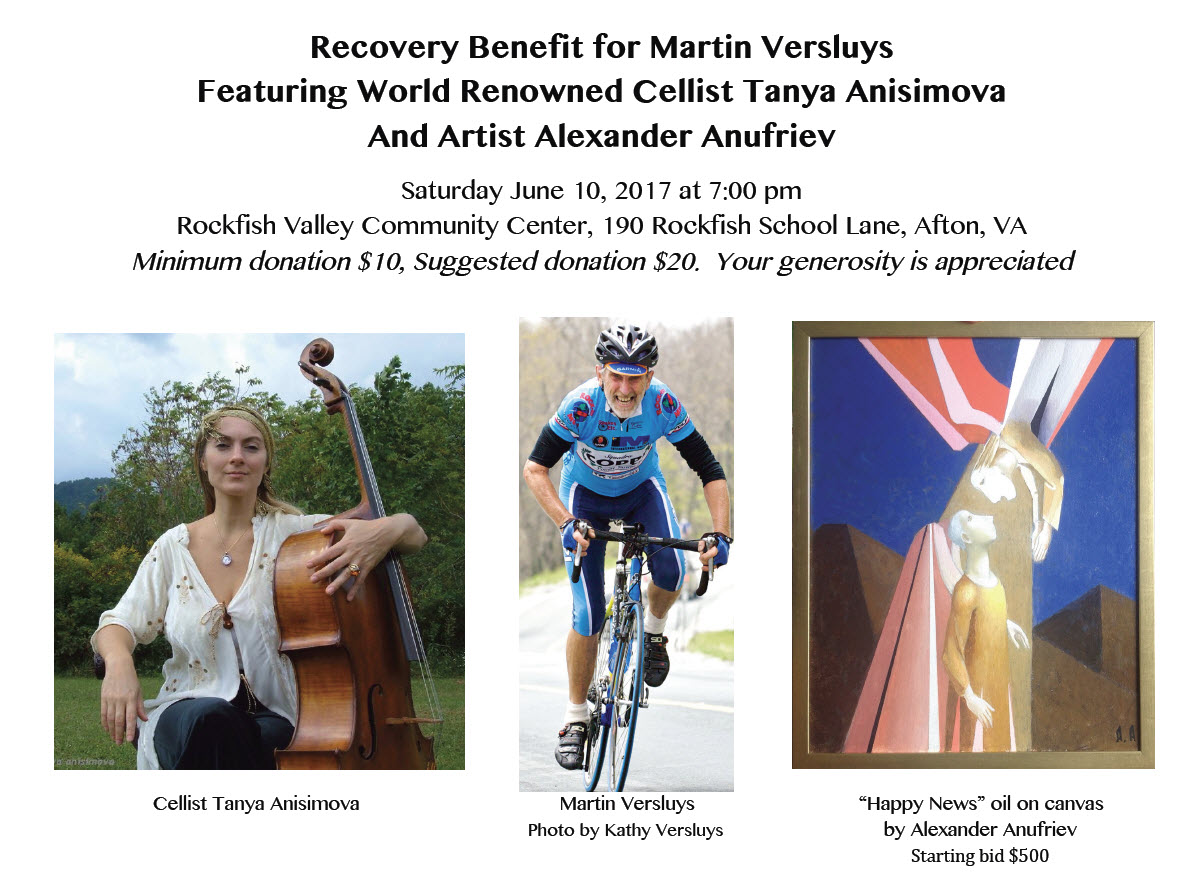 Last night's benefit concert was a resounding success! In excess of 100 people attended, raising more than $3,500. Martin was able to be there with Kathy, to the delight of their supporters. It was a beautiful evening at the Rockfish Valley Community Center.
"Words can't adequately describe cello maestro Tanya Anisimova's fabulous concert tonight---Of course, it was to celebrate Martin's amazing recovery and rebounding strength, but it was also a creative salute to the enormous generosity of this community.
I think everyone in the audience was awed by her commanding and emotional renditions of familiar pieces, and her whimsical improvisations where her voice became another instrument. She is a FORCE! Thank you, Tanya!
Another miracle is how you magnificent concert organizers were able to pull this off in just over 2 weeks! All the myriad details, from promotion to venue preparation and ticket sales, meshed perfectly. We are deeply impressed!
To everyone who attended we are profoundly grateful. Thank you for enabling such a beautiful evening, and of course for the funds you all raised on our behalf at this event and the various other campaigns.
Martin continues to improve, as you all saw. And I'm continuing with the smoothie/soup marathon to keep him from losing any more weight. (Now if I could only turn him into a couch potato, I might succeed--trying, ha!---at least to get him to rest.)
One thing is for sure, the enormous assistance we're receiving is not lost on us. We're more devoted to staying involved in the community than ever! Thank you all so much!"
Kathy and Martin
Gallery photos courtesy of Diana Marchibroda.