Tanya in Recital with pianist Valery Kuleshov
Cello & Piano Recital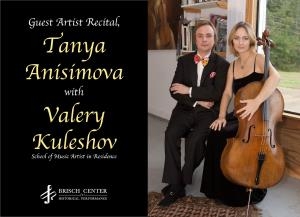 Venue: Radke Fine Arts Theatre, Oklahoma
Tanya in Recital with pianist Valery Kuleshov
Special guest artist, Tanya Anisimova will be playing her program with Valery Kuleshov, UCO School of Music Artist in Residence, 7:30 p.m. Feb. 23 in the Radke Fine Arts Theatre.
Reception to follow.
This recital is free, open to the public and brought to you by the Brisch Center for Historical Performance.
List of Dates (Page event details)